Beacon Suites Pet Resort
Dog Boarding Facility & Resort
Services Provided:
Custom Mobile Responsive Website Design
Installed Content Management System
Search Engine Optimization (SEO)
Blog Installation and Setup
Google Maps Integration
Newsletter Signup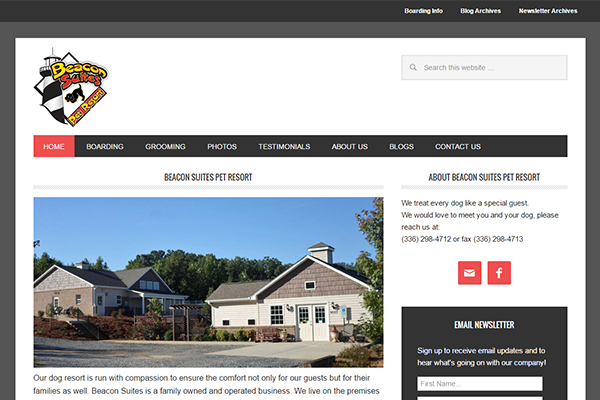 CLIENT TESTIMONIAL/REVIEW

GriffinIX Media is a good place to start for a fast turnaround webpage that you can edit to fit your needs when done. Blake will give you a step by step guide to complete the process. All of my questions were answered promptly within a day via email. Blake was very professional and helpful.
Trudy Benedict, Owner - Beacon Suites Pet Resort
Providing Web Design Services in the Kernersville, Greensboro, and Winston-Salem areas since 2009
GriffinIX Media provides professional website design, graphic design, logo design, and marketing services for businesses in the Kernersville, Greensboro, Winston-Salem, High-Point, Raleigh, and Charlotte areas as well other areas of North Carolina and the US.
Our websites are custom built for you and we only produce high quality designs that will captivate your visitors. Whether you're looking for a professionally built custom website for your business, organization, or even just for personal use, we're here to help and to make it affordable.